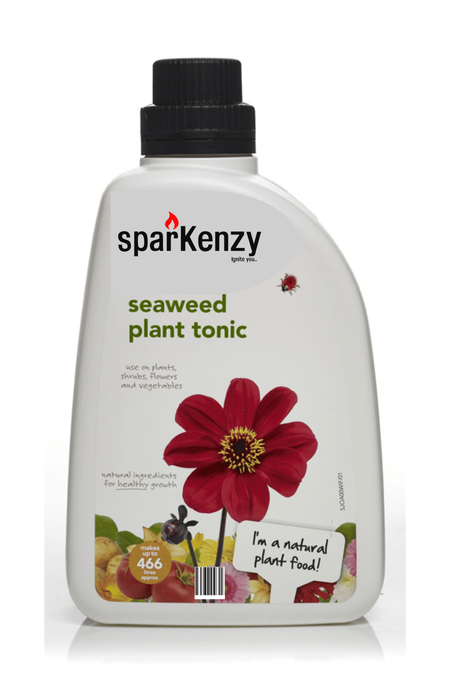 Organic Seaweed Fertilizer for Plants 1 liter | Promotes healthy plant growth
Save

68

%
Save

68

%
Original price
Rs. 1,799.00
Original price
Rs. 1,799.00
-
Original price
Rs. 1,799.00
Original price
Rs. 1,799.00
About Seaweed Fertilizer:
ENRICH SOIL: This is a method of increasing microorganisms that can incite nitrogen from the atmosphere. Reducing salt content and the breakthrough mineralized layer will effectively resolve soil salinization due to over-fertilization.

INCREASE GROWTH - Improves seed germination and encourages root growth. This results in high-quality flowers and delicious fruits.

BALANCE NUTRITION - Promotes balanced growth and larger blooms. It provides all the nutrition you need, including Nitrogen, Potassium and Phosphorus, and chelating trace elements such as Zinc, Boron, Molybdenum, and other essential nutrients like Calcium, Magnesium or Zinc.

HOW TO USE: Make 1 Liter seaweed liquid spray for plants. STEP 1: Take 3ml Seaweed liquid extract (Concentrate), and mix it with 1-litre water. STEP 2 Combine them until well mixed. STEP 3 Spray the diluted seaweed liquid on the plants or directly onto the soil. NOTE: Do not apply the seaweed liquid spray to the plants after sunset or before sunrise. To prevent leaf burn.

Liquid seaweed is a great source of nutrition for plants. It contains hormones such as Auxins and Cytokinins, and Gibberellins. There are also many minerals, vitamins and enzymes that can be used as natural growth stimulants. These nutrients are essential for plant growth and help make plants stronger, healthier, and more resistant to disease.

The hormones in liquid seaweed fertilizers, such as Auxins and Cytokinins and Gibberellins and Betaines, contribute to overall plant health. Auxins regulate the speed of plant development. The growth rate of plants can be affected by auxins. It allows the flower buds to open on time.

Seaweed is rich in macro and micronutrients, as well as amino acids. It also contains natural Hormones (Cytokinins Gibberellins, Auxins and Cytokinins), N-P-K and traces elements for overall plant growth. It acts as a catalyst, helping plants to use solar energy more efficiently, encouraging stronger and healthier growth.

Seaweed extract is extracted from the selected fresh Brown Alage, which is natural, organic, and non-toxic using the cold water process method under high pressure, retaining all the bio-active and nutrient substances.

 
Why Sparkenzy ??
Free Shipping

Cash on Delivery

No Cost - EMI

All India Delivery

7-Days Return


Lowest Price In the Market

Using Sanitizer from Production to Delivery

24/7-Customer Support (9942152154)
BENEFITS OF LIQUID SEAWEED EXTRACT :









Improve Seed Germination :

Soaking seeds with liquid seaweed prior to planting will improve seed germination, root growth, and early seedling vigor. Liquid seaweed also can be used as a rooting solution. Place cuttings in a solution of liquid seaweed and water until roots develop, then plant. It reduces transplant shock and speeds root growth.

Improved Fruit and Flower Production

Seaweed fertilizer increases variety crop yields, including potatoes, peppers, cucumbers, strawberries, apples, okra and oranges. It also helps make fruits sweeter and gladiolus flowers larger. These improvements are likely because seaweed contains phosphorous, which is is known for helping with healthy fruit growth.

Encourages Root Health :

Seaweed contains phosphorous, which helps plants develop healthy and strong root systems. Seaweed also improves soil texture, greatly improving drainage and aeration. Plants that grow in soils with good drainage are less likely to have issues with root rot or other diseases caused by excess moisture.









Increases Water Holding :

Alginates (sponge-like starches found in seaweed), hold water droplets near the plant roots, making moisture available to them without drowning them. They also help enrich the soil by feeding a myriad of beneficial microorganisms.

Increases Plant Resistance :

Expect an increased uptake of nutrients from the soil, better resistance to frost and other stress conditions, increased resistance to pests, and best of all, increased yields!

Seaweed fertilizers can be used as a soil treatment. And since most plants absorb their nutrients through the leaves, applying it with a foliar method will benefit the plant even more. As the plant absorbs sunlight, it will also absorb the nutrients in the fertilizer.

Home Compost :

To get these benefits from seaweed, add seaweed to your compost pile or incorporate some seaweed into the soil. Using seaweed for compost improves soil consistency and increases water retention in sandy or grainy soils and may be used as a top or side dressing.