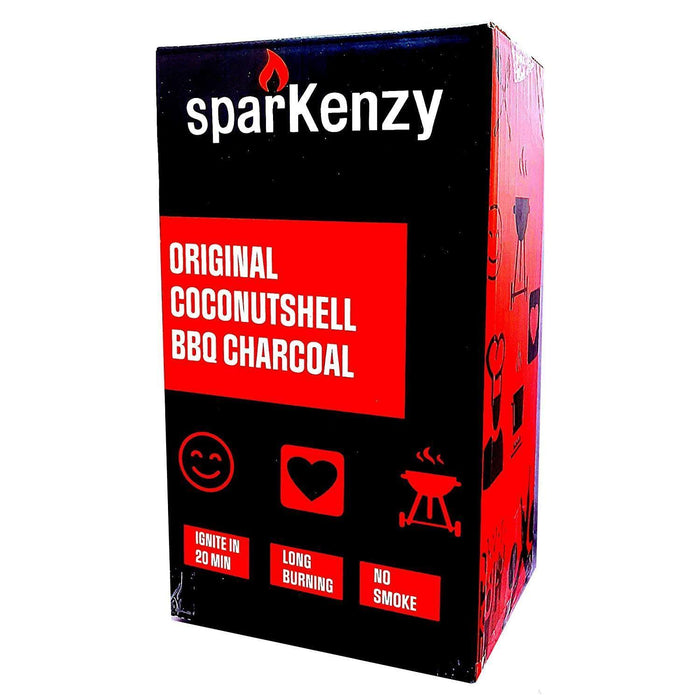 Sparkenzy Barbeque Charcoal 5-100 Kg | Low Smoke | Long Burning | No odor
Save up to

59

%
Save

75

%
Original price
Rs. 7,000.00
Original price
Rs. 1,598.00
-
Original price
Rs. 17,000.00
Original price
Rs. 7,000.00
Current price
Rs. 1,723.00
Rs. 577.00
-
Rs. 6,888.00
Current price
Rs. 1,723.00
Switch up your backyard BBQ routine with SparKenzy-Charcoal, Charcoal made from renewable resources that burns longer and hotter than traditional charcoal! These BBQ briquettes are made from compressed coconut shells, so they provide you with the same smoky taste as traditional slow burning charcoal, SparKenzy-BBQ also burns hotter and longer than other products - great for charcoal smokers and barbecues! 1 pound of Sparkenzy-BBQ does the work of 2 pounds of normal grill coals, making it one of the best charcoals on the market. For any avid outdoor cook, SparKenzy-BBQ is bound to become the choice charcoal for all your summer meals!
1. Made from Coconut shell charcoal sourced from Tamilnadu and Kerala
2. Made from Automatic manufacturing Plant
3. Quality inspected
4. Use only for outdoor cooking
5. Low Smoke
6. Long Burning
7. Zero Odor
8. Perfect shape
9. Burns evenly for perfect cooking
Low Smoke
Sparkenzy is committed to provide Smoke free Coconut shell charcoal, Our Charcoals are made from Automatic Briquettes processing machine to ensure each piece of coal is perfect for cooking. We Use only Selective Coconut shells for manufacturing charcoal, so that emission of smoke is very less compared to normal charcoal
Low Smoke

Burns Evenly and Burns 5X Longer than normal charcoal
Perfectly Shaped
Shaped Like a Pillow
Each Piece of our charcoal is shaped perfectly to burn evenly for getting constant heat transferred to all areas of preparations.
Why Sparkenzy?
Briquettes Made From All-Natural Compressed Coconut Shells

Natural Coconut Based – Burns Slower Than Regular Charcoals and last long

BURNS x10 LONGER: Burns Hotter & Burns Longer Than Other Charcoals on the Market

USE LESS: Use Half the Amount Per Grill as Other Brands – A Little Goes a Long Way

TASTE THE DIFFERENCE: Perfect for Outdoor Charcoal Smokers, Grills, and Barbecues