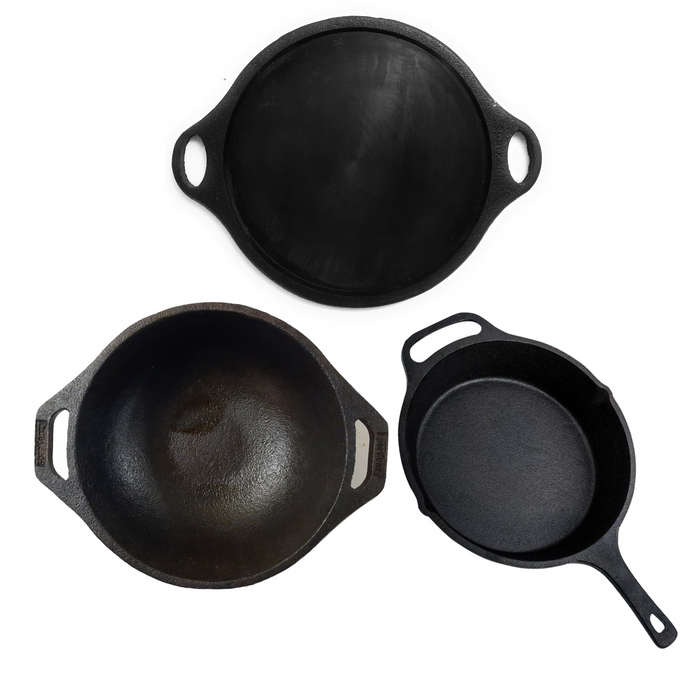 Sparkenzy Pre seasoned Cast iron Tawa 11 inch | Kadai 10 inch | Skillet 10 inch | Combo
Sold out
Original price
Rs. 9,999.00
Original price
Rs. 9,999.00
-
Original price
Rs. 9,999.00
Original price
Rs. 9,999.00
Current price
Rs. 2,298.00
Rs. 2,298.00
-
Rs. 2,298.00
Current price
Rs. 2,298.00
High Grade Casting
Not like other low cost pre seasoned tawa, we sparkenzy brings you the high class cast iron cook wares made with food grade cast iron. No lead or other harmful substance added.
Cast iron tawa is made with food grade cast iron with out lead.
Totally Toxin-free – No ENAMEL, No CHEMICAL coating on inner surface. Pre-seasoned with 100% Vegetable Oil.
Improves Iron content in Food
Cooking in cast iron cookwares will improve the iron content of the food and also improves the taste.
Product at a Glance:
The right tool to cook dosa, roti and sear, sauté, bake, broil, braise using Tawa.

The right tool to cook pizza, fish fry, omelette using Kadaai pan.

Tough for long lasting life.

Seasoned for a natural, easy-release finish that improves with use.

Unparalleled in heat retention and even heating

Can be used in induction, hot pot, camp fire or stove.

3 years Replacement warranty